Welcome to Milestone Heritage Consulting
Providing professional Cultural Resource Management and Public History services focused on historical engineering, industrial and transportation sites and structures for clients including government agencies, private developers and the heritage tourism industry.
Cultural Resource Management
Survey • Identification
Evaluation • Mitigation
Documentation: HABS/HAER & state-level, written & photographic
Photography: Digital & film including large-format view camera
Public History
Education & Interpretation:
Publications, exhibits & interpretive signage systems for historic sites, museums, parks & trails
Featured Project:
From Copperas to Cleanup:
The History of Vermont's Elizabeth Copper Mine

The Elizabeth Mine in South Strafford, Vermont, operated from 1809 to 1958. It was the largest copper mine in New England and hosted developments in the American chemical and copper industries, including an important early U.S. "copperas" (iron sulfate) factory. The mine produced 50,000 tons of copper for the American Industrial Revolution, World War II, and Korean War. Runoff from the dramatic, abandoned, mine landscape contaminated the Connecticut River watershed. The U.S. Environmental Protection Agency designated the mine one of the largest Superfund sites in New England in 2001, and cleanup was completed in 2013. From Copperas to Cleanup presents, in words and pictures, the story of 150 years of industrial activity at the Elizabeth Mine and how the EPA and its project partners documented and reclaimed its legacy on the landscape. Milestone Heritage Consulting created this publication for the EPA and U.S. Army Corps of Engineers to help them fulfill their obligations to address cleanup impacts on historic resources under the National Historic Preservation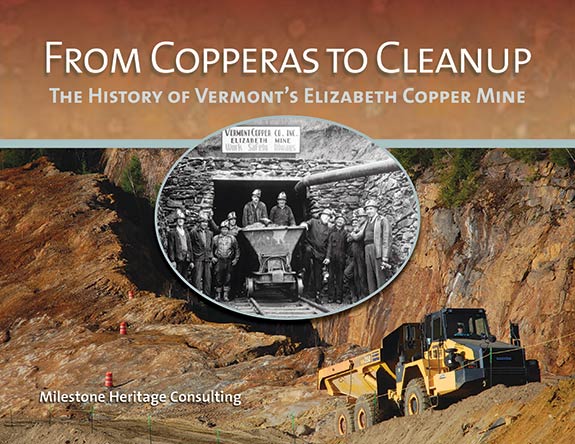 About the Author
Matt Kierstead is an industrial historian and recognized authority on the history of the mining and quarrying industries. He has provided the U.S EPA with technical cultural resource assistance at Orange County, Vermont's historic copper mine Superfund sites since 2000. From Copperas to Cleanup is an outcome of his extensive research and documentation work at the Elizabeth Mine.
Bound softcover copies of From Copperas to Cleanup are available from Milestone Heritage Consulting for $15.00, postage paid, anywhere in the U.S.. Please contact matt@milestoneheritage.com to order a copy.